Share:
Zoar Golf Club
- A Central Ohio Favorite For Almost 50 Years
By David Theoret
In the early '70s, Columbus Ohio native Jack Nicklaus was winning all of the major tournaments and the golf industry was on the verge of a boom. The Southern Stark County and Northern Tuscarawas in the Central Ohio area needed a high end, top quality public golf course to capitalize on the golf momentum.

In 1973, the Frank family envisioned what could be and took up the challenge. One of the Frank brothers was an experienced land surveyor with the government and identified a piece of land on the edge of Zoar Village. A second brother was in the finance industry and contacted the Small Business Association. It was determined that $100,000 was needed to proceed. One hundred shares were sold at $1000 a share with 65% going to the Frank family. With cash in hand, the next step was to purchase the land and hire an architect. Well-known Golf Course architect, Geoffrey Cornish agreed to take on this project.

Every member of the Frank family - from ages 8 to 70 - was involved in the building of the Zoar Golf Course. Whether the task involved welding, trenching, surveying, operating heavy equipment; or picking up thousands of stones so that the grass could be planted, everybody lent a hand. Construction of the clubhouse was completed in March of 1975, and on April 19, 1975, the course was open for business. The Frank family took great pride in their new golf facility, a trait that is evident to this day.

Zoar Golf Club has been a "must play" for Northeastern Ohio & Western Pennsylvania golfers for 44 years! Google Reviewers give Zoar Golf Club 4.6 Stars. The club plays host each year to the Gatorade Collegiate, The Yuengling Scramble Series, the Zoar Memorial, the Zoar Senior Amateur, and several other amateur events.

Zoar offers five sets of tees and plays 6733 yards from the back tees with a par of 72, a course rating of 71.4, and a slope of 12. The Blue (6,329/68.5/116) and the White 5,750/67.4/115) tees also offer a good test for those of us who no longer hit the ball as far as we used to. Seniors will enjoy the Gold (5,223/69/111) tees while the ladies and juniors will find companionship in the Green (5,132/69/111) tees. No matter your level of ability, Zoar offers tees that will fit your game.

The course hasn't changed much since being built. Check out their website and see the pictures from an original yardage book. If anything, holes have been lengthened to keep up with current equipment changes, Compare yardages with a current scorecard and you'll see what I mean. I met someone who remembers playing the course back in the '70s. He said all of these now mature trees were just saplings and the course played a lot different back then. Of course it did. If a tree was in your way, you simply hit over it!

Most of the greens are surrounded by grass mounds and some of the greens can be very interesting. Several slope back to front while others have multiple levels and ridges running through them. Number 8 has one of the most interesting greens out here. From the middle of the green, it slopes severely to the left. There is also a mound in the middle of it. Left side pin placements will make three putts all too commonplace.

Number 2 is a par 5 that plays 501 yards. This double dogleg features trees on either side of the fairway as well as a bunker on the right side of the landing area that can come into play if you mishit your tee shot. Playing your layup down the right side takes the two greenside bunkers on the left out of play.

The 5th hole is a 352-yard par 4 and borrows characteristics from two of my favorite golf course designers Pete Dye and Donald Ross. It's a straightaway par 4, with an elevated tee box and Dye-like pot bunkers in the landing area on the left. Your shot into the green features a Donald Ross type bunker that comes halfway across the fairway and guards the right side of the green. If your tee shot doesn't make it across the valley, you're looking at a long, blind approach shot and when the flag is on the right side, par will be that much tougher. Not the longest hole but a challenging one.

Number 10 is s 385-yard dogleg right par 4 that plays considerably longer due to the uphill fairway. It features a bunker at the corner of the dogleg on the right side so your tee shot is best played up the left side. It takes at least a 250-yard carry off the tee to clear the trap. Your approach shot will require an extra club to compensate for the slope. Par is a good way to start off the back nine.

It's not often that a par 3 receives such a high handicap, but at 212 yards, Number 13 at Zoar Golf Club is handicapped #9. And for good reason. Trees and out of bounds make up the left side and grass mounds around the green can make for a difficult up and down should your tee shot not find the putting surface. There are no bunkers, just a lot of length!

Number 18 is a slight dogleg right par 4 of 366 yards and will take a driver out of the hands of many players because if you hit your tee shot too long, you may find the only water on the course. Land in either of the fairway bunkers off the tee and you're facing a very tough approach shot. You will more than likely need to carry the water to get to the green as it guards the entire left side. It's a fun ending to a fun round of golf.

Before your round warm-up on Zoar's full-length driving range where you can hit every club in the bag. There's a short game area with practice bunkers and a large practice putting green.

Eric Crone has been the Superintendent at Zoar Golf Club for more than 20 years and over has seen it all when it comes to the growth and maturation of the golf course. His biggest challenge he says is the weather and how unpredictable it can be. Fortunately, he says, the golf course is built on sand and gravel. "Last year when we had 9 inches of rain over a seven day period, other courses in the area were flooded. But because of the sand and gravel base of the golf course, we didn't experience the same problems." And, like every other superintendent I've ever spoken with, good labor can be hard to find. "He's had several workers retire but has been able to find some high school kids that have worked out well.

Making a vacation out of your golf trip to Zoar Golf Club has never been easier. The Club has partnered with several nearby hotels and they will work with you to make your stay as rewarding as possible. Whether it's a couples getaway an outing with the guys - or gals - you'll enjoy all that Zoar has to offer. Check out the links on their website www.zoarvillagegolf.com for participating hotel information or call them at 330.874.4653.

Article Tags: Zoar Golf Club, Golf in Ohio, Ohio Golf Courses. Jack Nicklaus Golf Courses, Frank Family Golf Course
Revised: 02/08/2021 - Article Viewed 8,197 Times
About: David Theoret
---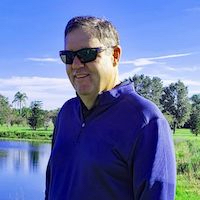 David Theoret has been in the golf and golf travel industry for over 10 years, primarily selling online advertising. For the past seven years, he has also been a golf writer, reviewing golf courses, resorts, destinations, equipment, golf apparel, and training aids - the latter of which never seems to help. David's articles and reviews have been posted on many golf travel and equipment websites.

Growing up in Southwestern Ontario, Canada, it was naturally assumed he would play hockey. Beginning at the age of 3 and continuing into his late 30's, he did just that. However, after one too many pucks to the head, he realized that golf was a lot easier on the body (whoever said hockey players were slow) and took the game up.

After moving to Florida and accepting a position with TravelGolf Media (now part of GolfNow) his love for the game grew exponentially. Most Saturdays you will find him on a course somewhere in Florida or on the practice range reinforcing his bad habits. David plays to a 10 handicap - unless there is money involved in which case it goes considerably higher. He currently resides in Lakeland, FL with his wife Belinda and their two "kids", Madyson and Molly.

---
More Articles by David Theoret