Share:
---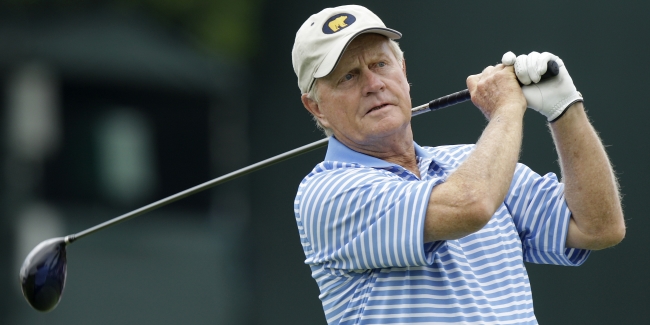 Jack Nicklaus Interview
Golf Quest: Fun Golf Related Questions
By Glen Turk
I recently had the pleasure and opportunity to interview the greatest player of all-time, Jack Nicklaus. The 18-time major winner celebrated his 75th birthday this January, and as you'll learn from the below article his passion for the game still burns bright. The Golden Bear has not only designed close to 400 courses worldwide, but in 2014 The Nicklaus Golf Company released a series of golf balls designed to accommodate three different levels of player by using the traditional tees from which they typically play (White, Blue and Black).

The Columbus, Ohio native was kind enough to answer your 20 questions that will hopefully give you a unique insight to a gentleman we can only refer to as "Mr. Nicklaus". Below is part one of our two part series.

You can play only one course before passing- St. Andrews/Augusta National/Pebble Beach/or other and why?
I would have to say Pebble Beach, but that is a hard trio from which to pick. I chose St. Andrews to finish my career (2005 British Open) because of what it meant to the game of golf and to me, personally. Augusta was wonderful for me throughout my career and the Masters Tournament is such a special event. Those are places - venues - and, to me, Pebble Beach is just a special place and golf course by itself. It's a spectacular experience and setting. I was fortunate to have a very good record there; I loved playing there; and I've always enjoyed it.

Who would be in your dream foursome- past or present and why?
My dream foursome is actually a fivesome, because it would have to include my four boys-Jack II, Steve, Gary, and Michael. As they grew up, it was great incorporating them into the things I was doing, and one of those was having them caddie for me in tournaments. Even more enjoyable though was having them as playing partners in various events. Even when I prepared for major championships in my prime, the best days of preparation were when I could visit a major-championship site early, as was always my practice, and take the boys along and have them play with me. When they were young boys, it was a blast watching them try to break 90 on a U.S. Open layout. I enjoyed it more than they did.

If you could play one round with a golf professional, past or present, who would it be with and why?
I'd play with Bob Jones. I set my goals in golf based on the standards Bob Jones established in his career. Interestingly, as much as I admired him, I never saw him hit a golf shot in person. We had many wonderful opportunities to spend time together over the years, and the invitations he would extend to my father and me to visit his cabin each year at the Masters, are some of the fondest memories I have in golf. He won 13 major championships, and my goal was to see if I could come somewhere near that record. Whether he was the greatest golfer in history may be debated for years with no definitive conclusion, but without argument, he was the greatest golfer of his time, as special as there ever was.

If you could play one round with a professional athlete, past or present, who would it be with why?
I'd pick Bob Jones again, because I'm a golfer. I realize he was an amateur, but I don't think I've admired any athlete more than I admired Bob Jones. He embodied everything that is so special about golf, particularly amateur golf. To win the British Amateur, British Open, U.S. Open, and U.S. Amateur in one year took remarkable playing skills, in addition to the resourcefulness to remain amateur.

What is the best destination to play in the Midwest and why?
I think Muirfield Village Golf Club is the best destination to play in the Midwest. Muirfield Village continues to challenge the best players in the world for one week out of the year, but for the rest of the year, I believe we have given the membership a golf course that is challenging to them but also enjoyable and one they enjoy playing over and over again. We have continued to tweak and improve upon the layout at Muirfield Village to respond to the wishes and needs of both the membership and the Tour players. The fact that the best players in the world continue to come back each year is a nice reflection on the golf course, the Memorial Tournament, and our staff.

What is the best destination to play nationally and why?
When you are speaking of tournament golf, I think Augusta National is a very special place. But again, if I had one more round of golf to play, it would be Pebble Beach. I fell in love with Pebble Beach the moment I stepped foot there to prepare for the 1961 U.S. Amateur. And after playing the course what seems like hundreds of times over the years, it remains as one of my favorite places to play golf. The first thing you can't help but notice is the location. The scenery is incredible. You just don't get opportunities to put a golf course on such a marvelous piece of property like you have at Pebble Beach.

What is your best overall experience on the golf course and why?
It would be hard for me not to say the 1986 Masters. I consider my sixth Masters victory the most fulfilling because it came at a time when not many people expected me to win, and I wasn't all that confident I could win either, although at the time, I don't think I could have admitted it to anyone. No need to review for the umpteenth time the sequence of shots from that final round-not that I wouldn't enjoy it-I'll just share the things that make the memory of it so special. Undoubtedly, it was an exciting week for me and for my family. Having my son Jack on the bag, having him along for every step of the way, and, then the hug we shared at the end, it was all great. We also had my mother and my sister there. My mom hadn't been to the Masters since my first one in 1959. Why she chose to attend that Masters in 1986, I have no idea. I remember there were so many people there that we rented a couple of houses and met every night for dinner in the main house, and I enjoyed that time with friends and family and relaxing every evening. There are just so many wonderful little stories-memories you never want to let go.

What is the best shot you've ever hit and why?
I am very fortunate in that I hit more good shots than perhaps I was allowed to hit, so to pick one of them would be tough.

What is the best shot you've seen in person that wasn't your own and why?
That's another tough one. Perhaps because it is still rather fresh in my mind, I might say Tiger's shot on 16th hole at Muirfield Village Golf Club in the final round of the 2012 Memorial Tournament. That was the most unbelievable, gutsy shot I've ever seen. Under the circumstances - the circumstances being Tiger had been struggling - it was either fish or cut bait at that moment. He had one place to land the ball. He's playing a shot that if he leaves it short, he's going to leave himself again a very difficult shot. If he hits it long, he's going to probably end up in the water on the other side of the green and lose the tournament. Instead, he lands the ball exactly where it has to land. Going in the hole was a bonus. But what a shot! I don't think under the circumstances I've ever seen a better shot.

If you could only play 18 holes with only one club which one would it be and why?
I probably wouldn't try that, because to me, that wouldn't be a lot of fun, because you'd have so many shots where it wouldn't be the right club. I always prided myself on having the right club in my hand, and I tell people all the time that my favorite club is the one in my hand at that time. But as for your question, a 5-iron might be the most versatile, but you can't get enough length for it, and you can't play the long par-4s. The par-5s could take three shots. You couldn't play with a driver or a 3-wood. You couldn't play with a 1-iron. I don't know which one club I would use.

Revised: 06/24/2015 - Article Viewed 21,628 Times
Share Comment
Written By: Glen Turk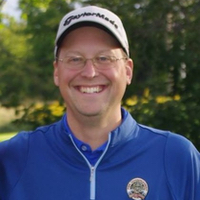 Glen Turk is a Wisconsin native and is the Senior Writer/Editor of Midwest Golfing Magazine. Midwest Golfing Magazine was formerly known as Pub-Links Golfer's Magazine and is a free publication distributed four times per year throughout Wisconsin, Illinois, Michigan, Minnesota, Iowa, Indiana, and Ohio.

His duties at MGM include writing course features, facilitating product testing, and overseeing the overall content and look of the magazine. But clearly his most important task is playing as much golf as his wife allows. Fortunately for him, she plays also and loves out-driving him even with a 60 yard head start.

Glen plays to a 6 handicap but once set a record by having his ball retriever regripped 15 times in one calendar year. It was a December trip to Guam that ultimately did him in. Finally, if you haven't caught on by now, the two most worthy weapons in Glen's writing arsenal are self-deprecating humor and pithy one-liners.

My signature line, "Be A Force on The Course" and now more recently, "Hit 'Em Where They Mow!" can be reused at no charge.